Bend pipe FBE anti-corrosion line
Device description:
Adopts advanced spraying equipment and spraying process for bending tube, CAN for all kinds of pipe outer surface anti-corrosion treatment, including single layer, double epoxy epoxy, single epoxy cold wind belt, pu + + polyethylene or polypropylene polyethylene or polypropylene cold entangled with a variety of anti-corrosion technology, perform the following criteria: SY/T0315-97 "steel pipeline fusion bonded epoxy powder coating technology standard", DEP 31.40.30.31 the outer coating line pipe polyethylene and polypropylene, DIN30670 steel pipes, sections and fittings PE protective layer, CAN/CSAZ245.20 ~ M98 outer wall of the steel tube fusion bonded epoxy powder coating technology standard ", at the same time also CAN anticorrosive processing according to standard provided by the user.
Bend pipe production line specifications and production capacity:
Bend pipe diameter:Ф219mm-Ф1620mm
Angle: 15 degrees to 90 degrees
Bend the straight segment length:L=1D
Radius of curvature:R=(4~6)D
Production speed:≥0.5m/min
Bending tube wall thickness:≤40mm
Descaling grade: Sa2.5 level
The thickness of the coating:≤1.0mm
The bent pipe shot blasting machine is described:
The machine consists of a ring roller, shot blasting cleaning machine, winding machine, pneumatic system and electric control system and dust removal system, etc. The shot blasting cleaning machine by chamber blasting, shot blasting machine assembly, sneaking pills bucket and grille railings, platforms, ladders, pill slag separator, pills for system and other parts. By six machine circular layout efficient blasting points and six direction to blast cleaning of pipe bending, can adapt to bend, 219-219 - mm diameter pipe shot blasting derusting function.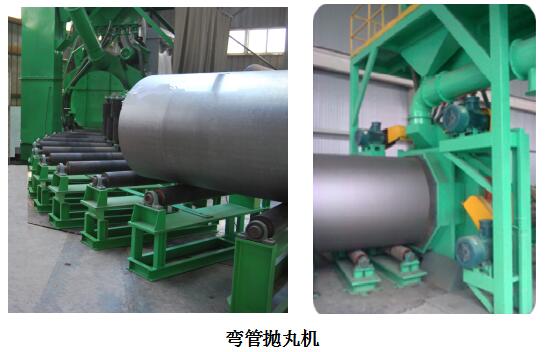 Bend medium frequency heating and epoxy powder coating
Digital intermediate frequency power supply is the fifth generation of products, my company in the design, except the main circuit of the conventional control circuit just two transformer and a control circuit board. Completely remove the contactor, intermediate relays, and other auxiliary circuit, a complete set of equipment, attachment & have spent More because of the three-phase ac input don't have to distinguish between the phase sequence, intermediate frequency output line don't have to be the advantages of the difference between the phase, the user field debugging more convenient. The product can be in 200-10 KHZ frequency range of operation. The control circuit can work within the scope of 25-1000 - kw run in a simple adjustments.
Powder coating USES annular spray gun bracket when bend radius of curvature is not at the same time, the annular spray gun supports automatic positioning before and after implementation. Annular spray gun stand reciprocating rotation adjusted by frequency conversion motor speed, spray gun connected to the bracket is flexible and can be adjusted in a certain Angle and length.
Spray room USES rectangular design, adaptive processing diameter Ф 219 ~ Ф 219 mm, the ring from the ground 1000 mm gun rack center, materials for S304 stainless steel spray room, spray room increased double convulsions device of imports and exports, in order to prevent the powder spillover, bend can completely out after spraying. SY/T 0413-0413 "buried steel pipeline poly (PVC coating technology standard" and 2 SY/T 0315-97 "steel pipe fusion bonded epoxy powder layer technology standard".